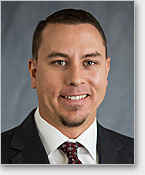 Jesse Espinoza
Jesse joined Griffith Company in 2021 as San Diego Area Manager, and in his current role, he is responsible for the profitable expansion of Griffith Company into the San Diego market, creating ample career opportunities for our employees, and generating long-term wealth for all employee-owners. Areas of responsibility include safety management, environmental stewardship, employee recruitment / retention, estimating / pursuit management, and the overall P&L of the business unit.
Prior to working with Griffith Company, Jesse brings 18 years of industry experience to the table. Starting his career in the field as a laborer/foreman, inspection technician, then making his way to project management and estimating. Most notably, Jesse spent several years as Regional Chief Estimator for an ENR Top 10 heavy civil contractor. 
Jesse earned his MBA from Arizona State's renowned W.P. Carey School of Business, and he also holds undergraduate degrees in both construction management and administration. He is a demonstrated leader in strategic planning, business development, and project execution. Mr. Espinoza is highly focused on achieving strategic objectives while maintaining a high-performance culture.