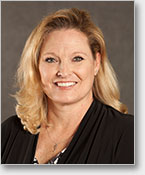 Janell Carlson
Manager, Landscape Division
Janell Carlson joined Griffith Company in 2011 as a Project Manager/Estimator and was promoted to Division Manager in 2018. She is the first female Division Manager at Griffith Company and is proud to be a fourth Generation landscape contractor. Janell has been involved in estimating and project management for sports parks, park development, highway beautification and strategic habitat restoration for mitigation and environmental restoration. In her current role, Janell is responsible for cultivating a vast array of client relationships, acquiring appropriate backlog and executing the operational plan.
With a diverse and accomplished background, Janell brings fresh ideas to the Construction Industry. Her experience in advertising and marketing as well a background as a Paramedic and State Instructor in Fire Technology and Emergency Medicine will bring a strong perspective to the Landscape Division and the management team.
Janell holds a Bachelor of Arts degree in Communications from San Diego State University, and a minor in Fire Technology and Paramedicine.  She is a fourth generation resident of Huntington Beach.