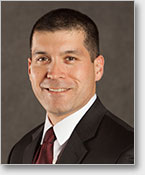 Steve Ruelas
In 2014 Steve joined Griffith Company as a Job Cost Controller. Within a few years of joining he became the Corporate Controller and ultimately Chief Financial Officer. In his current role Steve is responsible for overseeing the operational accounting, financial management, and treasury functions of the organization.
Prior to joining Griffith Company Steve spent nearly 15 years serving in the role of financial manager for both Mechanical and Electrical construction firms. During that time he sharpened his skills in job cost accounting, joint venture accounting, ERP conversions, process improvements and internal control development. He holds a BA in Economics from the University of California at Los Angeles and an MBA from California State University at Fullerton.  In addition he holds the Certified Construction Industry Financial Professional (CCIFP) designation. Steve has been a member of the Orange County Chapter of the Construction Financial Management Association (CFMA) since 2010 and also served as chapter President in 2014/2015.
Walt holds a Bachelor of Science in Construction Management from California Polytechnic State University, San Luis Obispo.  Prior to Joining Griffith Company he spent two decades immersed in the local and western regional construction markets with a national, vertically integrated contractor.  During that time Walt focused his efforts on developing an expertise in all facets of Heavy/Highway construction, honing leadership skills and galvanizing partnerships with many local agencies, contractors and owners.  Additionally Walt is currently managing partner of his family's farm which has been in continuous operation in the Central Valley for over a century.